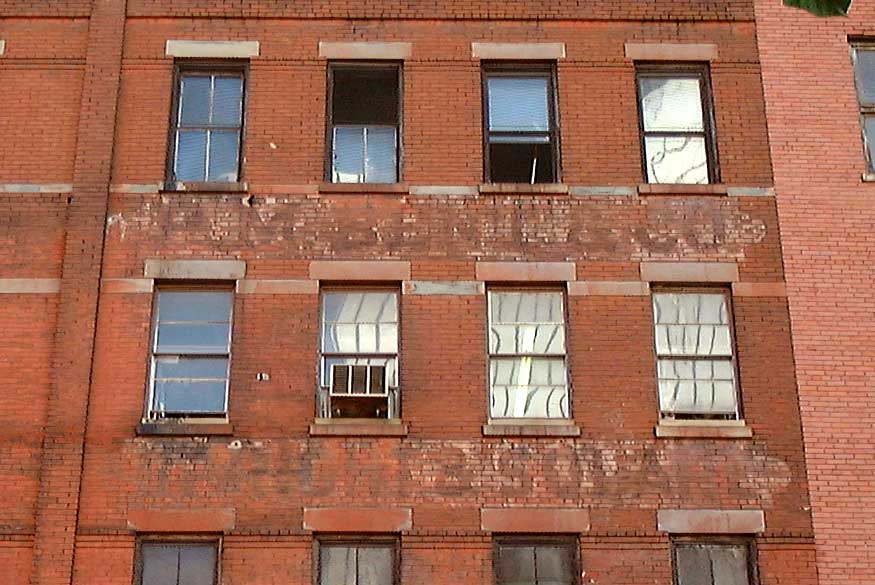 R. M. Bent & Co., 767 10th Ave., New York, 2002

R M BENT & CO
UPRIGHT & SQUARE
This view is of the north side of 767-769 10th Ave. - i.e., 500-506 W. 52nd St. The sign is that of R. M. Bent & Co., piano manufacturers at this location from 1888 to 1906/7.
Richard Mitchell Bent (1832-1926) received the following obituary notice in the New York Times, 19 May 1926, p. 25, "Richard Mitchell Bent, Civil War veteran and former piano manufacturer, died on Monday at his home, 126 West 117th Street, in his ninety-sixth year. Mr. Bent was born in Broome Street and christened in old St. John's Church, Varick Street. For fifty years he manufactured pianos. Various improvements in the upright piano were his inventions, among them a device whereby the strings kept their tone longer than they had. Mr. Bent learned the trade with the Steinway brothers at Munn & Clark's, an old English firm. He built a factory at Tenth Avenue and Fifty-second Street. He was said to be the first manufacturer to ship a piano to the Klondike..."
Richard M. Bent appeared in New York city directories in 1870 as a member of the firm, Beames, Bent & Co. located at 117 W. 11th St., Manhattan. Nancy Groce, writing in Musical Instrument Makers of New York: a directory of eighteenth and nineteenth century urban craftsmen, 1991, described James F. Beames as, "From 1869-80 Beames was a member of the small piano-manufacturing firm Beames, Bent & Company. The firm was taken over by Richard Bent c. 1880, however, Beames continued to be listed at the same address through 1889 even though he was apparently no longer Bent's partner."
Nancy Groce described Richard Bent in these terms, "Bent and his partner James Beames headed the piano-manufacturing firm Beames, Bent & Company from 1869-80. Bent apparently gained control of the firm in 1880, and its name changed to R. M. Bent & Company. Little is known about Bent, although he might have been the same person as the piano and organ dealer of the that [sic] name who had been active in Charleston, South Carolina c. 1861."
James F. Beames was James Franklin Beames, born 5 Jan. 1823, New York City, died 22 Dec. 1889, Fremont, N. Y. He appears in two U. S. Census reports, those of 1870 and 1880. In 1870 he was Jas. F. Beams, age 47, born New York, Piano Maker, living at dwelling 205, West Farms, Westchester County, New York (post office Tremont). He lived with his wife, Sarah, age 45, born Pennsylvania, and they had 3 children, James, Christina and Edwin, ages 22, 15 and 4 respectively. Also living with them was William Beams, age 43, born New York, a bookkeeper. In 1880 James F. Beames lived at 18 Cottage Place on Hancock Street, Manhattan. His wife, Sarah W., and their children, Christina and Edwin J. Beames, lived with him. Beames at this time was 56 years old and his occupation continued to be Piano Manufacturer.
In 1892 Richard M. Bent, age 60, applied for a passport, where he declared that he was born 18 July 1832 in New York City. He stated that he was a piano forte manufacturer, and that he would be traveling with his wife, Helen M. Bent, born Nashville, Tenn. He asked that the passport be sent to his home at 63 West 50th St., New York City. Directory listings indicate that Bent lived at 63 W. 50th St. for 30 years (from 1892 until 1922). He appears in the U. S. Census reports of 1900, 1910 and 1920 living there. In 1910 he continued to be a Piano Manufacturer, but in 1920 his occupation was None. It is very unclear where his wife, Helen M. Bent, was born. Two census reports say Missouri, another says Illinois, and the passport application says Tennessee ...
A Dictionary of Pianists and Composers for the Pianoforte, by Ernst Pauer, London & New York, 1895, p. 136, describes R. M. Bent as follows, "The firm was founded (1868) by Richard M. Bent (b. 1834, New York, of English parents) and James F. Beames (d. Dec., 1889). Patents were taken out by R. M. Bent for 'detachable arms and key bottom,' for 'bushed tuning-pins in full iron-frame,' and for 'practice pedal or muffler.'"
The Antique Piano Shop has a short notice about R. M. Bent, including, "R. M. Bent built mostly square grand pianos, and they were known as being high quality, expensive instruments."
Richard M. Bent secured two patents relating to piano pedal actions. These were patent no. 613,232 dated 1 Nov. 1898, and patent no. 736,675 dated 18 Aug. 1903. The 1900 Brooklyn Daily Eagle Almanac listed Mrs. Richard M. Bent, 63 W. 50th St., as the president of the Colonial Whist Club, Manhattan. Two patents secured by Richard M. Bent in 1896 related to a "duplicate-whist apparatus."
The Annual Report of The General Society of Mechanics and Tradesmen of the City of New York, 1907, lists Bent, Richard M. as a member since 6 December 1905.
New York's Great Industries, 1885, included R. M. Bent & Co. with the following information, "R. M. Bent & Co. Manufacturers of Square and Upright Pianos, No. 453 West 36th Street. - ... They are the manufacturers of the celebrated three stringed, treble full agraffe pianos, and among the points of superiority are their great strength, durability in every climate, and beauty of proportion and finish, coupled with a peculiar musical quality and richness entirely their own. Besides square pianos they also make the cabinet, grand upright, parlor uprights, and a small pony upright, which for beauty and originality of design, superiority of workmanship, delicacy of action and volume of tone, are unexcelled... The business was established in 1870, under the firm name of Beames & Bent, both practical workmen of long experience. In 1880 Mr. Bent bought out the original firm and about the same time purchased the entire stock and premises of the late firm of Bloomfield & Otis, and since that time the business has prospered... Mr. Bent, the senior member of the firm, was born in this city and regularly brought up to the piano forte manufacturing business, since his fourteenth year."
In February 1906 a fire destroyed the upper three floors of the building at 767 10th Ave. (New York Times, 12 Feb 1906, p. 4). The report specified that R. M. Bent occupied the top floor. It is possible that R. M. Bent closed for business following the fire.
There are also signs on the front (10th Ave.) side of this building (click for image), although here mostly what can be made out are the bottom lines
Office / Factory / Warerooms / Player Pianos / 767 / 769
An R. M. Bent used upright piano could be had for $140 in this advertisement from 1901.
-------------------------------------------------------------------------------------------------------------------------------
Also located at 767 10th Ave. were the piano manufacturers, Becker Bros. Becker Bros. were in business from approximately 1902 to 1940, and were located in this building from 1907 to 1940. The name of this company is misleading: there never seemed to have been any Becker brothers. The sole founder was Jacob Henry Becker (1866-1925), an immigrant from Germany. His naturalization petition dated 12 Oct. 1888 identified him as a piano maker born 19 April 1866, who arrived in New York 19 June 1882. He was described as follows at www.antiquepianoshop.com, "In 1892, Jacob Henry Becker established the Becker Brothers Piano Company. Their factories were located on 52nd Street in New York City. ... In 1928 the company was controlled by Jacob Henry Becker's son, Rudolph C. Becker. Rudolph Becker was able to successfully guide the company through the Great Depression, but the firm went out of business right around World War 2. Becker Brothers also built pianos under the Beggington name, and player pianos under the Mellotone and Playernola names."
Both Beckers, father and son, were included in Schlegel's German-American Families in the United States, Volume III, originally published by The American Historical Society, New York, 1918: "Jacob Henry Becker, fifth child and son of Ferdinand and Louisa (Mascher) Becker, was born at the family homestead and farm in the market town of Veckerhagen, in the province of Nieder-Hessen, Hesse-Cassel, Germany, April 19, 1866 ... in 1880 he arranged his interests and family affairs and embarked from the seaport city of Bremen and set sail for the harbor of New York City ... He secured a position in the piano manufacturing establishment of J. P. Hale, where he remained actively employed during the next six years ... The young piano maker next entered the employ of his uncle, Delius Meister, in New York City ... This venture, however, did not prove successful with its owner, and young Becker entered the employ of the Jacobs Brothers, who were then extensive piano manufacturers in New York City, with whom he remained actively engaged for a period of sixteen years... In 1902 ... Jacob H. Becker enabled himself to engage in the piano manufacturing business on his own account, under the firm name of Becker Bros. … In 1904 ... they purchased the property at Nos. 767-769 at the corner of Fifty-second street and Tenth avenue."
Rudolph Casper Becker (1889-?) was also included in the same work: "Rudolph Casper Becker, son of Jacob Henry and Philipine (Goeb) Becker, was born at the family home in New York City, November 17, 1889. His early educational training was acquired in the Parochial School of St. John the Baptist's Parish, and in the New York Public School No. 32, from which he graduated, and later studied a commercial course in the Packard Business College of New York City. During the later years of his educational studies, Rudolph Casper Becker devoted his spare time towards acquiring a practical knowledge of the various details and technique of the piano manufacturing business under his father's tuition, and under his guidance and direction has successfully applied himself to the practical as well as the technical details of both the factory and counting room of the Becker Bros.' establishment, with which he has been actively identified up to the present time (1917)."
Jacob H. Becker with his family was included in the 1900 U. S. Census when he lived at 235 W. 36th St., Manhattan. Jacob was 33 years old, born April 1867, Germany, and his son, Rudolph, was 10 years old, born Nov. 1889. In the 1910 census the Beckers lived at 353 W. 51st St., when Jacob was 43 years old, and Rudolph C. Becker 20 years old, and a "bookkeeper, pianos." They also were recorded in the 1915 New York State Census living at the same address. In 1917 Rudolph Becker registered for the World War I draft, when he was 27 years old, born 11 November 1889, New York, N. Y. By this time the family lived at 2025 Broadway near W. 70th St. In 1940 Jacob Becker's widow, Philipina Becker, age 70, lived at 545 W. 164th St., Manhattan. Her son, Rudolph, lived with her, and his occupation was recorded as "Superintendent Paint Factory." The paint factory is almost certainly an error for "piano factory." Rudolph Becker also registered for the World War II draft in 1942, when he gave his occupation as "Retired."
Copyright © 2010 Walter Grutchfield